We had a terrific day with Luigi!! Our party of 4 took several tours on our self guided 17 day trip to Italy. Capri Experience was the best! We had lucky weather for our October excursion. I have recommended Luigi to all the travelers we met along our way.
We had a great time with Luigi, the boat was beautiful and he was super accommodating to make our schedule work. We look forward to returning next time! Thank you Luigi
We LOVED this experience along the Amalfi Coast so much that we booked the next day with the same crew! Anthony & the captain Luigi, were absolutely fantastic. This was a highlight experience for us during our 3 week stay in Italy. Having a private boat was a great experience and they were so full of history & fun facts. We saw so many beautiful views along the coast & Capri. :) Definitely do this.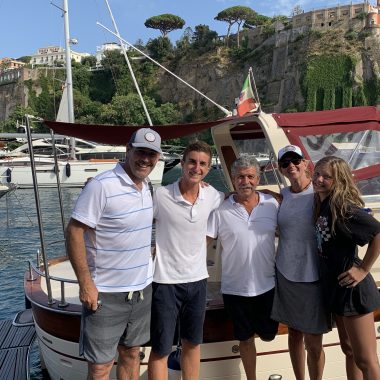 Luigi, we can't thank you enough for the perfect day! We loved all the special spots where we could swim alone in the caves, experience all sides of Capri/Ana Capri and the coast north of Positano. You are the ultimate captain! And we loved the boat, it's beautiful and perfect for our group. The natural wonders of the Amalfi area and the Mediterranean in general are treasures. You helped us see them with new eyes. Grazie mille amico mio! Ci vediamo a presto! Laura
Best experience hands down on our trip to the Almalfi Coast. From the booking process to the trip its self it was a pleasure dealing with Luigi and his crew. Its a must do day trip worth every cent, Drinks and food on board, swimming areas, grotto's and amazing views and of course it helps when the crew never says no to you and your guests. Highly Recommend it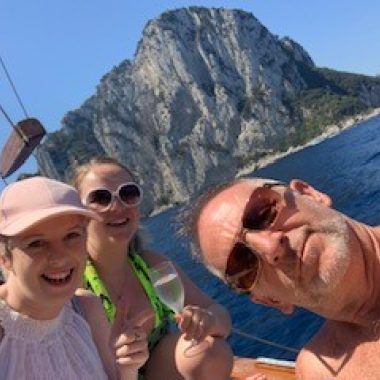 We had a great time exploring with Capri Experience! We saw all of the grottos, took some time to swim, get off in Capri, and have lunch! Beautiful day and amazing captain and skipper! Highly recommend!
A Perfect Day! Luigi (our captain) and Francesco showed us an amazing time around the Amalfi coast. They picked us up right near our hotel and showed us all around the coast, picking the perfect places to go swimming, explore the caves (grottos) on the way to Capri. They took us to a small town with the cutest restaurant for a delicious lunch that was away from the crowds. Positano can't be missed by the way. I couldn't ask for a better trip. The boat is also absolutely gorgeous and Francesco hooked us up with Prosecco and snacks! He was also a great photographer. Would definitely go back.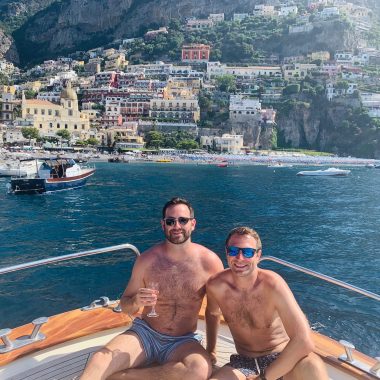 What an amazing day with Capri Experience. I found Capri Experience through an internet search. Luigi was quick to respond the my emails and was very easy to communicate with. Our family of 4 booked the Apreamare 750 for a day trip from Praiano to Capri. The skipper of the boat reached out to me to in the morning ensure I knew where to meet at the Praiano pier. Pick up at the pier was very easy and fast. Tony was so proud of his boat, which was the perfect size for our fantastic, but could easily accommodate a group of 8. Tony was very knowledgeable about the Amalfi Coast and the beautiful island of Capri. He took us to many spots to jump off the boat and swim, which was very refreshing on the hot July day. Going in and out of the many caves of Capri was such a treat. We had time for lunch and to explore the island in foot. Tiny let us have as much time as we needed. On the return we had time to stop at a beautiful Poisitano beach for a final opportunity to swim. Tony had plenty of snacks and drinks in the boat for all of us through out the day. It was our best excursion in Italy and we all hope to go back and have another Capri Experience with Luigi and Tony. Thank you, thank you, thank you for an unforgettable experience!
What an amazing day! Booking a daylong boat tour of Capri with Capri Experience was one of our highlights of a 14-day visit to Italy. We were staying in Positano and our captain arrived early and picked us up from the main dock in town. He reviewed the planned itinerary for the day we had originally worked out over email with the company to see if we wanted to make any changes. Throughout the tour, the captain provided the history and cultural relevance of various points of interest. He was super attentive to our desired slow relaxing pace for the day and offered drinks and snacks throughout the experience as well as helping us get perfect photos to remember the experience. At various points he also suggested great places to jump in for a swim. One of the best parts of the trip was visiting the various caves on Capri and along the Amalfi coast. If you thought drivers in Italy were courageous, you'll be amazed at the way boat drivers get in and out of these tiny caves with boats of all sizes! At the end of our trip, our captain even served an aperitif of limoncello made by his mother and made from lemons from his family's garden. It's evident he takes great pride in his work and enjoys creating a positive experience at sea!